An environment full of innovation, creativity, technology-businesses and enterprises encouraging local ICT-industry growth and development.
Project: IT and Cre Park in Mar del Plata
The idea of an IT and Creative Industries Park in Mar del Plata was originated by ATICMA in 2008. The project was based not only on local strategies and needs of the ICT sector but also upon the aspects featuring our regional industry.
Its main purpose is to position the city as a national reference point, not only by promoting the development of an innovative, creative and technological environment but also by encouraging entrepreneurial establishment, all of which leading to the promotion and development of the ICT-Creative industry in General Pueyrredon District.
---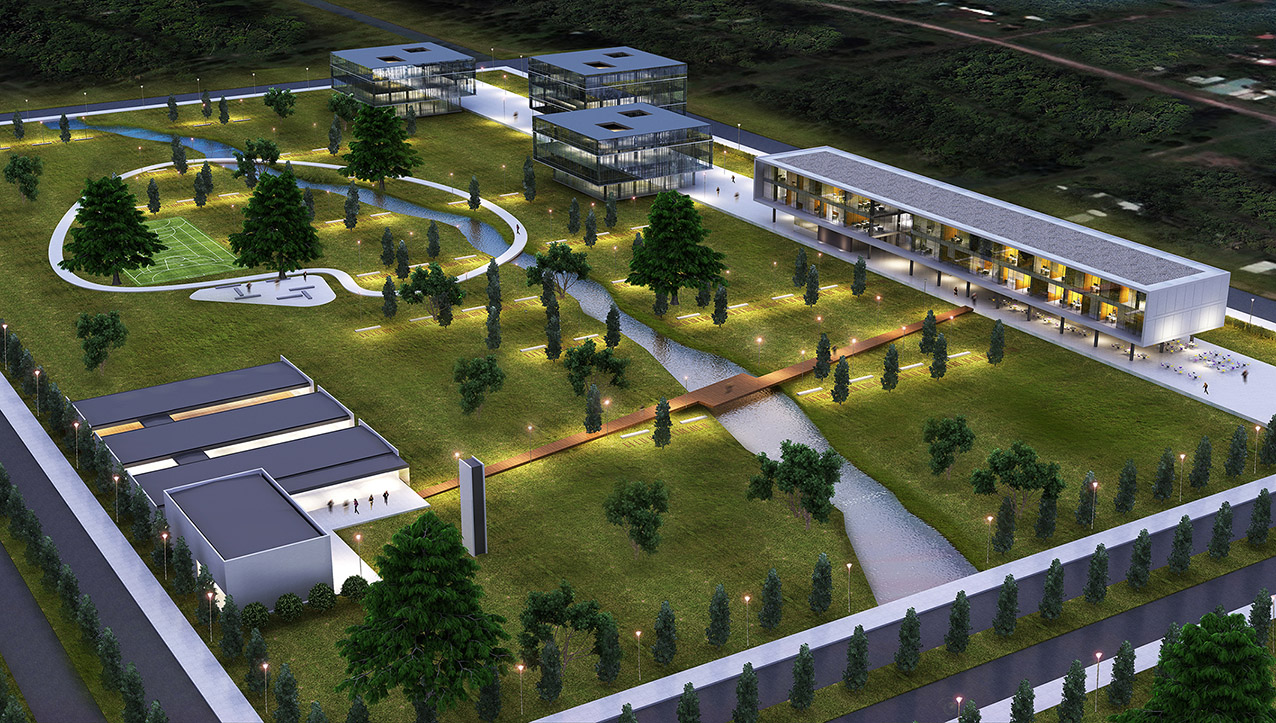 Specific objectives
To create a physical place oriented to the incubation, development and establishment of ICT-creative businesses in General Pueyrredón District.
To stimulate knowledge-economy by promoting sector growth, adding value to existing enterprises and institutions, and fostering business creation.
To generate high added value employment, favoring ICT training and attracting ICT professionals.
To develop the ICT sector by connecting it to our local productive sector.
To link the ICT sector to scientific and education sectors, promoting training, technology transfer and innovation.
To connect the ICT sector to ICT policies, plans and programs promoted by the National State.

Model
Park implementation involves Public-Private participation and it is focused on three cornerstones: Innovation and Creativity Encouragement, Skill Development and Creation, Development and Expansion of ICT and Creative Businesses.
The original project is composed of the following aspects:
A site for the settlement of existing businesses. We seek that, through private investments, existing businesses build their own working places.
A center for the Incubation and Development of ICT and Creative Businesses. In this publicly-funded building, there will be different rooms and spaces, including: a cafeteria, a restaurant, meeting rooms, an auditorium, offices for the incubation of technology-based businesses (TBB), offices for the establishment of microenterprises, a technology monitoring center, training rooms, university technology transfer labs, offices to support ICT businesses (trading, funding, internationalization, to name a few) and co-working rooms.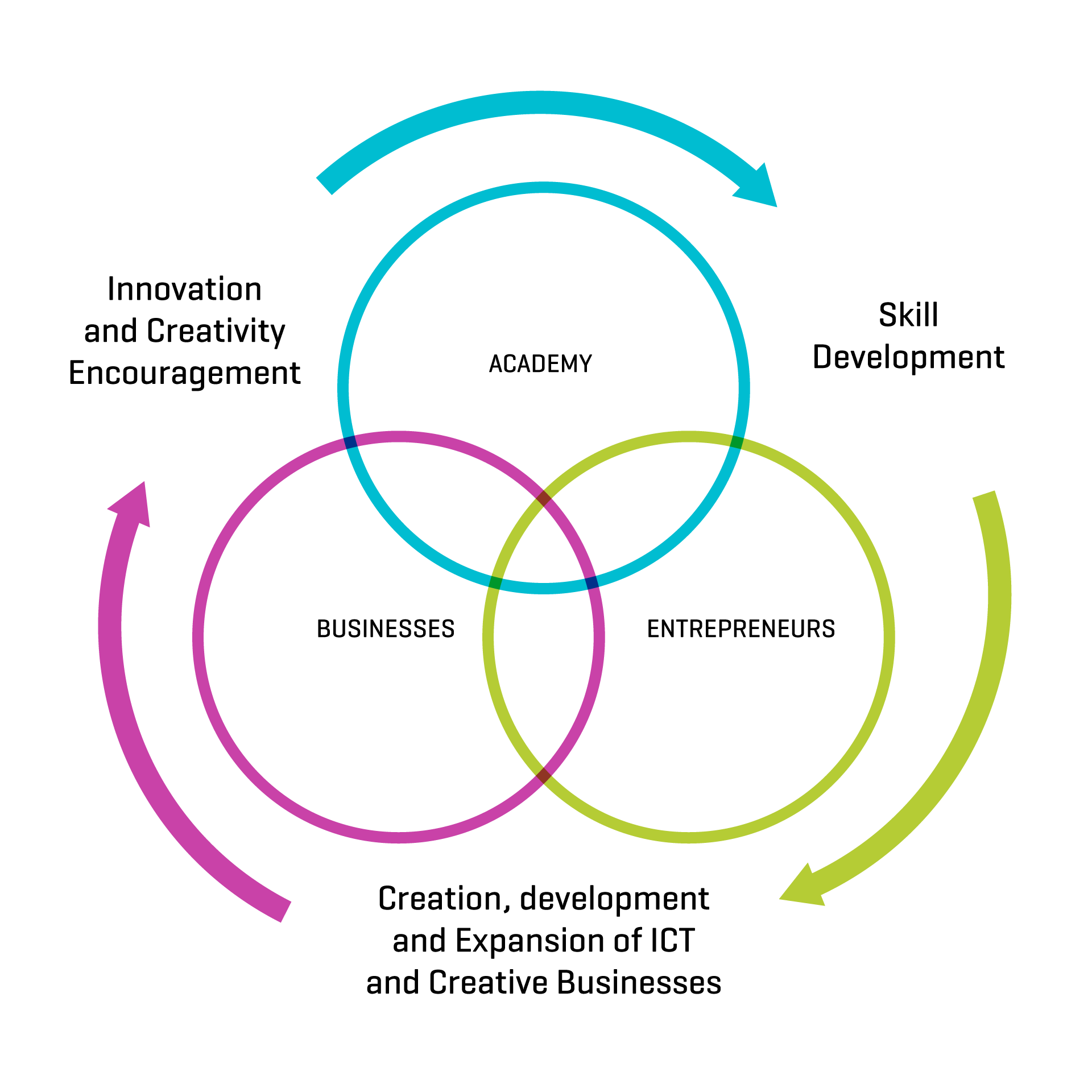 ---
Model Comparison
Criteria
IT Park MDP
Technology District
Main objective
To create an entrepreneurial hot spot for business establishment and development, combining government-industry-academy participation.
To establish and create clusters composed of existing enterprises.
Advantages

offered

Business associativity, connection, innovation, new markets, incubation, to name a few.

It may also include special tax benefits.

Tax incentives (they expire).

It takes advantage of the infrastructure to foster business establishment.

Employment effects
Business creation and expansion; entrepreneurial establishment driven by this new model.

This model increases high-value employment.

It is not intended to produce a natural industrial development nor to generate more employment. It only seeks to relocate businesses and draw entrepreneurial attraction through taxation benefits.
Physical expansion
Broad and extensive place, aimed for entrepreneurial establishment, I+D services, incubation and training.
Space concentration in a delimited zone.
Location
Generally in the outskirts and outside urban areas.
Undervalued urban areas in big cities.
Urban development
A planned and highly-qualified expansion leading to the creation of new urban centers.
To improve undervalued urban areas through the creation of an alternative and unlimited real estate market.
Target audience
Freelancers, entrepreneurs, differently sized enterprises, universities and services.
Existing enterprises of a certain size meeting pertinent establishment requirements.
Sustainability
The environment produced by the Park uses the services offered. Services can be also provided to enterprises outside the site, thus, generating additional income in pursuit of economic sustainability.
The State shall maintain lifetime tax benefits, management units and infrastructure costs.
Model components
The Park will be given 100 percent of an area, managed by a mixed administration.

Government participation. At least one public building -offering special services and fitted with common spaces- shall be provided by the government.

Land Assignment/Sale for entrepreneurial establishment.

From the very beginning, State, Academy and Businesses commit themselves to get involved.

In advance, there are no requirements to fit the model.

It is only necessary that the Government promotes a city area, by improving its context, accessibility, safety and infrastructure. Once the business is set up, it receives tax benefits and funding to purchase and build the place.

A Government body is not required.

Disadvantages
Making project supporters agree on a common vision regarding the physical place, the Government role and the way in which land should be assigned or transferred.

The main problems to be solved are location and accessibility.

Being fully managed and administered by the State, risk-taking is an inherent aspect for changes in the political model may happen.

Lifetime tax benefits maintained by the State become distorted for the enterprises settle only partially with the objective of getting those benefits.

As the district turns into an area of real estate development, establishment becomes more and more difficult. Property devalues and rent costs increase as a direct result of district growth.

Common aspects
Both of them are real-estate-growth-hot spots of the areas they are located at not only in terms of entrepreneurial and business establishment but also for housing initiatives.

As a result, in both models, local government intervention in urban planning areas is essential.

Variations
As both models have different alternatives, confusion and contradiction may arise. In both models, each site differ from one another as a result of multiple reasons, including:

Socio-economic policies depending on industrial characteristics, supporting actors, among others.

That is why, regardless of the initiative taken, it should be supported by, at least, one master plan.
Project background
2008: ATICMA and General Pueyrredon District signed a Cooperation Framework Agreement with the purpose of coordinating joint actions to complete the Strategic Plan for the ICT Sector in Mar del Plata and surroundings. This Agreement was ratified by Municipal By-Law No. 19008.
September 2012: ATICMA and General Pueyrredon District signed a Specific Agreement to promote the creation of an IT Park in Mar del Plata.
October 2012: Municipal By-Law No. 21096 (as amended) was enacted for the Promotion and Encouragement of the ICT Sector.
July 2013 – June 2014: Consultancy for the development of an IT Park Master Plan was carried out under the "Emerging and Sustainable Cities Initiative" of the IDB. It comprised the following diagnostic assessments and recommendations:

Analysis of the objectives and profiles of enterprises
SWOT analysis and logical framework
Business and management model of the Park
Management regulations
Internal Business rules
Building regulations
Preliminary environmental report
Communications plan
Financial instruments
Economic assessment
Socio-economic assessment

September 2013: By-Law No. 21478 on land use was enacted for the creation of an IT and Creative Industries Park.
September 2013: a survey on Mar del Plata ICT sector was conducted by the Ministry of Productive Development, through its Local Development Body.
October 2013: 25 enterprises and 5 universities signed an agreement upon the establishment of an IT Park.
The Project was incorporated into "2030 Mar del Plata Strategic Plan".
March 2014: the "Digital Creative Mar del Plata Program" was created, fostered by ATICMA and implemented jointly by ATICMA and General Pueyrredon District.
2015: Certifications on hydraulic, electric, gas, water and sewage feasibility were obtained. That year, OSSE [Water and Sewage Services Company] filed bids for the construction of a sewage network leading to the Park.
The Andean Development Corporation approved a budget to finance the construction of the IT Arts and Crafts School in the premises of the IT Park. A bid for tenders was called and construction began.
2015: funding for the construction of "ICT Research, Teaching and Extension Center" (CIDETIC) was approved: "Más Cerca" Program of the Ministry of Federal Planning. A bid was called and granted; an agreement was entered into with the building company.
December 2015: the Municipality and ARSAT signed an agreement for the installation of a node of the Fiber-Optic Federal Network on the premises of the IT and Creative Industries Park.
2016: a bill was submitted for the creation of a Public-Private Management Consortium of the park.
2016: the National Chamber of Deputies declared this project as one of national interest.
February 2017: the project was suspended by ATICMA due to the lack of implementation.
March 2017: The Chamber of Deputies created a Special Committee in favor of ICTs, requesting the completion of the IT and Creative Industries Park.
March 2017: the city Mayor announced the cancellation of the Park within the premises of Jorge Newbery and the creation of a new project: "Creative Industries Pole" in front of MAR Museum.